Tale #8: A Love Letter to Inside Passage by Michelle "Scooter" Bostick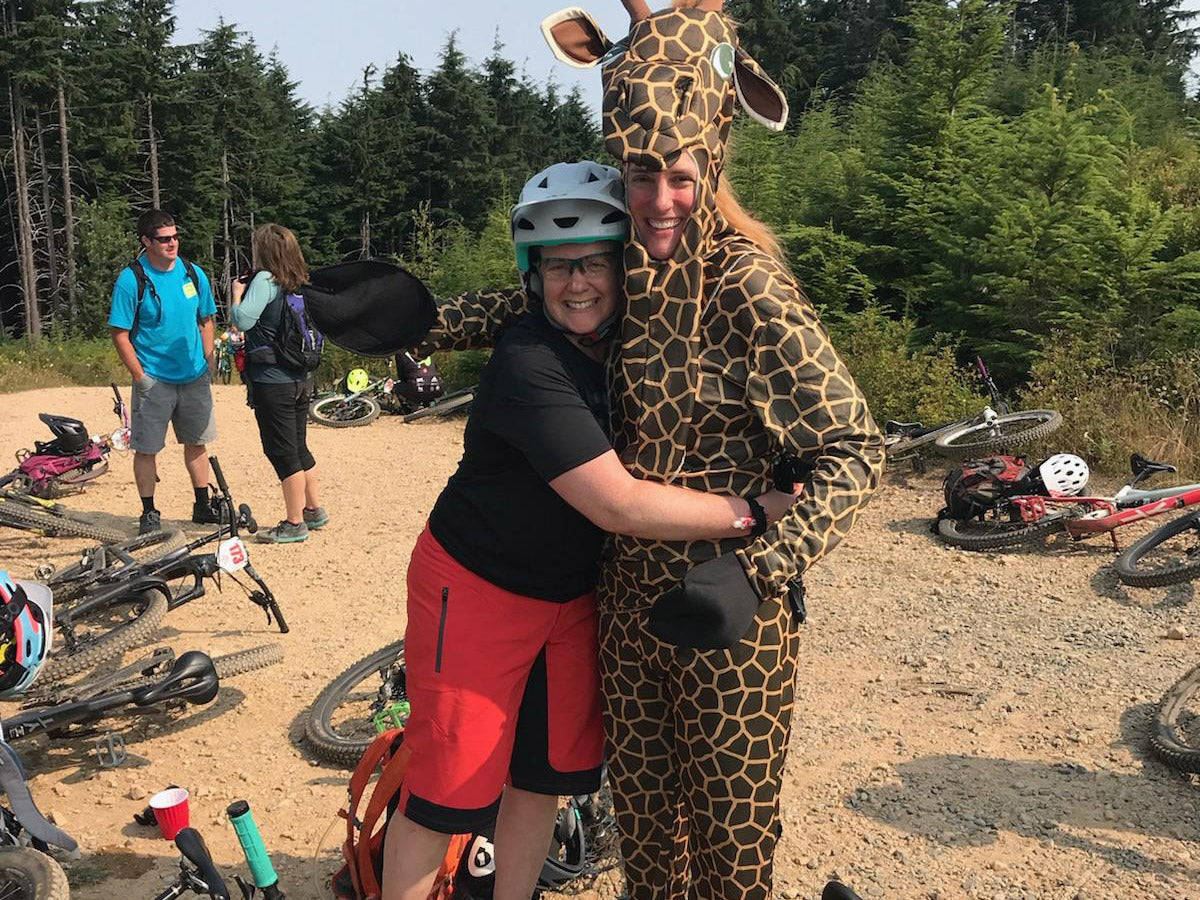 Life takes unexpected turns, and mountain biking is a perfect analogy for that – before you ride a new trail, you think you know what it's going to be like but until you actually get on that trail, you don't really know what you're in for.
My mountain biking experience began in 2011. Out of the blue, my wife and I bought mountain bikes for our birthdays. We were still playing rugby so most of our riding was in the summer when we were out of season. Mountain biking was an exciting new sport for us, and with my background in power sports, I found the easier trails at Duthie to be a blast. My wife and I took some Evergreen and Sweetlines classes there, and enjoyed trails at Black Diamond, Soaring Eagle, Big Finn and Paradise as well. In 2012 we even went to Whistler and pushed ourselves with some blue and black trails in the Fitzsimmons Zone. For the next few years we would ride when the weather got nice and go out a couple of times a month. It was a super fun activity in the mix with all of the other things we liked to do.
Then in 2014 we started planning for the biggest adventure of our lives. We wanted to start a family. We began the journey of doctors' appointments and expensive treatments. Because of the time, energy and risk during fertility treatments, I had pretty much stopped mountain biking. This process pushed us in ways we never imagined. It was the most emotionally challenging thing I have ever been through. I am the person I am today because of this time but I can't say I would ever want to repeat it. In the middle of this process, I met an injured mountain biker Denise Schwend. We had an instant connection and each time we saw each other our conversations would get deeper and deeper in to mountain biking. Talking to Deni about mountain biking got me more and more excited. It was something fun to focus on. My wife and I started adding rides back in again. In the summer of 2017 we took two trips to Canada, riding the Lost Lake trails at Whistler, then going to Alberta and riding in Jasper and Canmore. The trip to Alberta was perfect, literally perfect. Nothing was missing. I realized I had my family and we were whole just the way we were. This trip brought clarity, and while it was still challenging to let go of having a child, we were able to stop putting our lives on hold and begin to live again.
At this point in 2017, I still hadn't ridden Tiger. With that power sport background, my skills often exceeded my fitness. The thought of climbing to the top of Tiger to then descend unknown trails while already being exhausted was way too much to overcome. I had heard about the Sturdy Dirty Enduro and really wanted to try it but knew there was no way I would be able to race if I couldn't get to the top. Then something wonderful happened, Inside Passage opened. I started off riding Inside Passage, Joyride and Northwest Timber. After doing this a couple of times, I added Legend. Friendly riders would encourage me that Master Link gets easier after Inside Passage, and by early summer 2018 I had ridden to the top of Tiger. I signed up for the Sturdy Dirty and rode NOTG a couple of times before the 1-year anniversary of my first ride on Inside Passage. One blue trail cutting across the side of the mountain had suddenly opened up an entire trail system for me.
Inside Passage was the building block I needed and empowered me to do so much more. I have now done the Sturdy Dirty twice. I was confident enough to go to Roam Fest in Sedona last summer and ride with awesome womxn 3 days in a row. Most importantly I have found a community that I thought I had left behind in my rugby days. I have met wonderful people and enjoyed the camaraderie of doing something that we all love. Whatever our abilities we all share the same experiences of fear, injury, accomplishment, and stoke. Inside Passage made me a mountain biker and this community provides me with the family I thought I gave up in 2017.
You may not know where your trail is going to end up but if you can find some flow along the way, it will be worth the ride.