Tales from the Trails: Tokul Edition - Lokul Lore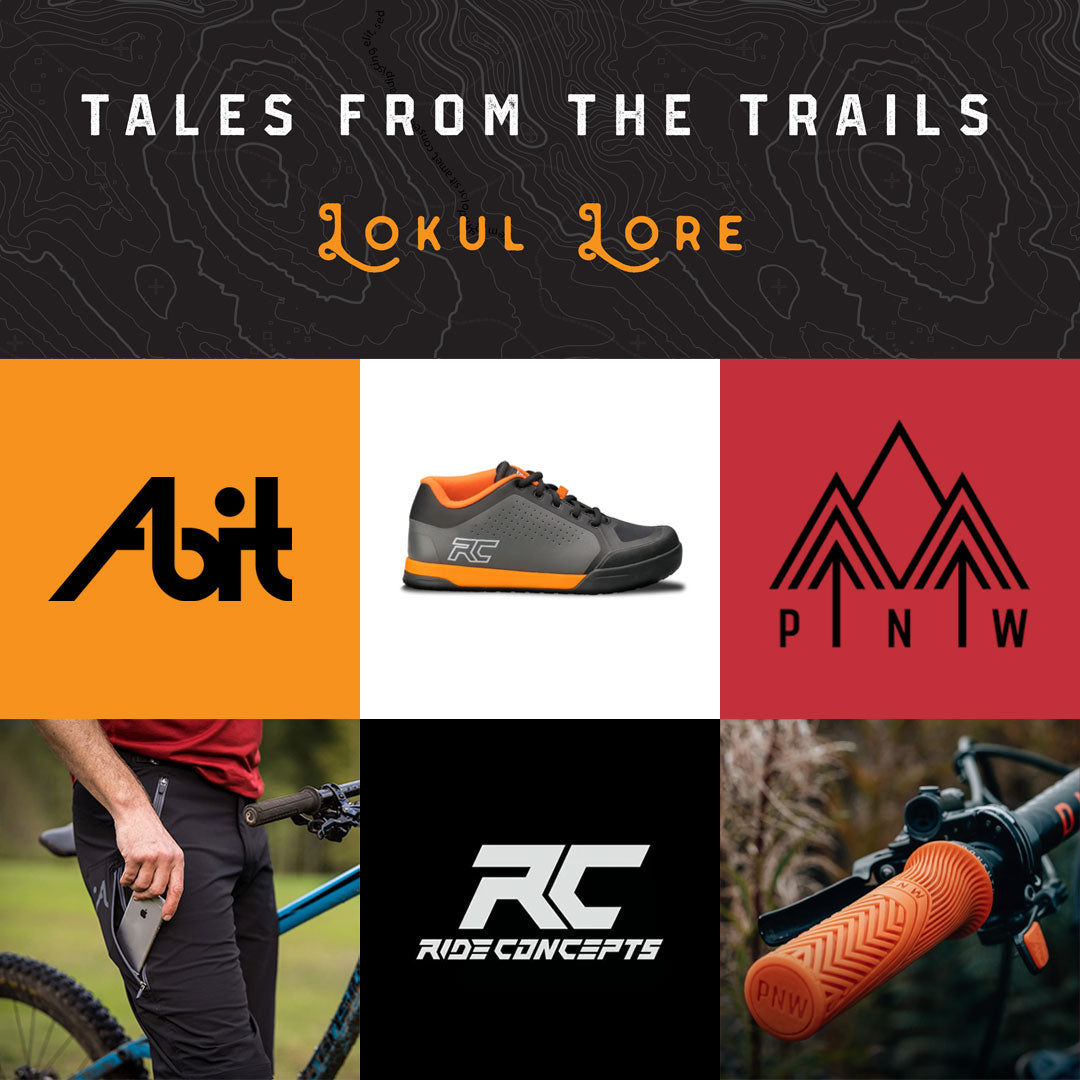 Congrats to our winner, Barry Fenton!  Read his winning tale: Crazy Ivan.
A contest to tell the craziest story from the riding zone we specify. Your tale must be based on an actual experience, but we encourage creativity. Entries will be posted here and shared on social media. Finalists (as decided, in an utterly biased manner, by Dan & Justin) will judged by a panel of esteemed dirtbags to select our winner.
The Lokul Lore Prizes
The winner of Tales from the Trails: Tokul Edition receives this great prize package.
Dirtco 
Raging River tees in men's and women's, Raging River cap, Raging River decals.
PNW Components
Range handlebar. 31.8mm handlebar that plays nicely with modern geos. With 10° back sweep and 5° upsweep, the Range: KW Edition helps put your shoulder blades in a more neutral position while reducing wrist fatigue and discomfort.
Loam grips  with an ultra tacky compound and ergonomic pattern to support your palms and help relieve any fatigue caused by trail chatter and long days in the saddle. Available in 9 great colors!
Abit Gear
Enduro Mountain bike shorts. Premium quality shorts in either Slim Fit or Athletic Fit, featuring cam-lock waist adjusters, 3 zip pockets and nylon 4-way stretch fabric with DWR finish.
Ride Concepts 
Your choice of premium ride shoes from RC in the size that fits your paws.
Contest Details and Rules
Be creative! Have fun! Your tale must be based in the riding area specified, and be based on a real experience.
Give your tale a title.
Submit at least one image with your story, up to five total. We can also embed YouTube videos, but still need at least one pic.
Include your name and contact info. 
We will screen entries for appropriate content. Tales of  doing stupid things, being weird, getting wild, building trails, crashing, partying, being a hero are all fine, but we'll reject anything that isn't good-natured. This is 100% at our discretion.
Privacy waiver: As a condition of entry, entrants grant Abit Gear LLC, Dirtbag Supply Co, Ride Concepts and PNW Components (the "Sponsors") the irrevocable right and permission to use photographs and/or video recordings and/or writings submitted on Sponsors and other websites and in publications, promotional flyers, advertising materials, derivative works, or for any other similar purpose without compensation to entrant. 

Entrants hereby release, acquit and forever discharge the Sponsors, its current and former members, owners, agents, officers and employees of the above-named entities from any and all claims, demands, rights, promises, damages and liabilities arising out of or in connection with the use or distribution of said photographs and/or video recordings, including but not limited to any claims for invasion of privacy, appropriation of likeness or defamation.
We will pick a limited number of finalists to be judged by a panel of 5 dirtbags, who will select the contest winner.
Submission Deadline: entrants must submit their story by November 19, 2020.
Email your entry to info@abitgear.com with the subject line Lokul Lore.
Entered stories will be posted to https://abitgear.com/blogs/tales-from-the-trails and shared to social media.
Meet Your Esteemed Panel of Dirtbag Judges
Holly Sato, Tokul Lokul and inhabitant of the Loam Dome, doesn't play a doctor on TV, but is one in real life, currently shredding for two, co-moderator of the Tokuls Only Facebook group. 

Peter Sherrill, the head Loam Gnome, coordinating trail building and communication between mountain bikers and Campbell Global. He is a long-time board member with Evergreen and avid trail builder. 
Emily Kerson, co-owner and founder of PNW Components, veteran of the MTB industry, and the creative eye behind PNW's branding. 
Dan Saimo, owner and design genius behind Dirt Bag Supply Co, long time builder / rider and co-founder of the Dirt Corps with Matt Patterson.  
Chad Perrin, North American Director of Sales for Ride Concepts, and long time snow and bike industry veteran. Lover of good style on two wheels!
Lokul Lore #1: Creatures of the Night by Joel Miranda
"That was when something in the bushes to my right stirred and started running. Tim and I always joked that you don't have to out run an animal, you just have to out run your friends. I never thought that a full sprint was going to be my reaction. I didn't even look..." Read the tale!
Lokul Lore #2: A Tale of Fall City by Ted Schroth
"...the "swamp bridge ride" when along comes a guy who not only charged it but did a tail whip jump at the end. When I asked if he could do it, he said "I should, I built it." Which explains things. After seeing him do this, (the following is true) I rode the entire thing, yes I did, yes I did." Read the tale!
Lokul Lore #3: Safety First Cougar by Kurt Komarnitsky
"...He stopped, I stopped. We were both on a collision course at the turn on that trail if I had not caught that movement. There was nothing but 20 feet of ferns between us. I lifted my bike up in the air and starting yelling..." Read the tale!
Lokul Lore #4: A Tale of Fall City REPRISE: The Other Side of the Tracks by Barry Fenton
"That's what I remember from the email. You all know the story from the highly acclaimed A Tale of Fall City.

There was in fact blood. And there was a guy hunched up and generally not doing so well near the cedar split rail bridge that we had lovingly crafted just a few weeks before. Within a few months the bridge and all the other split cedar work on Flowtron would be lying in a jumble of chainsaw destruction." Read the tale!
Lokul Lore #5: One More Time by Dave Taylor
"Everyone stopped, lined the trail and cheered Colin on as he made those fun swoopy middle turns on Bobsled. It was one of those moments that you carry with you forever and motivate you to get that extra lap or even just get out for a short one." Read the tale!
Lokul Lore #6: Crazy Ivan by Barry Fenton
"...get the hell off his land and don't come back. Eric told him we weren't on his land and bugger off. He said he was coming back with a gun tomorrow and we had better not show up. Dave said, see you tomorrow. By midnight our trail had a name." Read the tale!