How To Build the Ultimate Mountain Bike Tool Box & Source all the Supplies You Need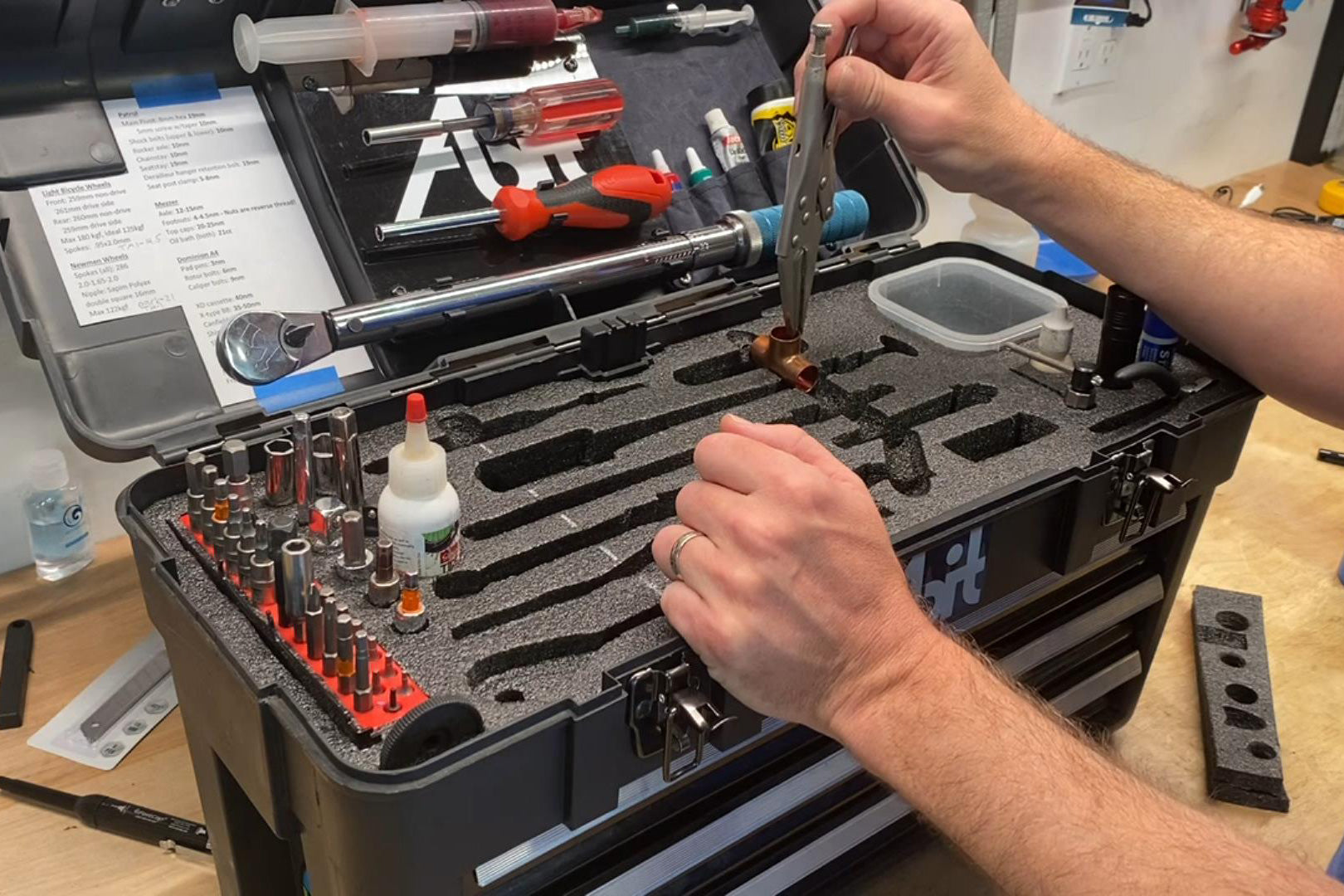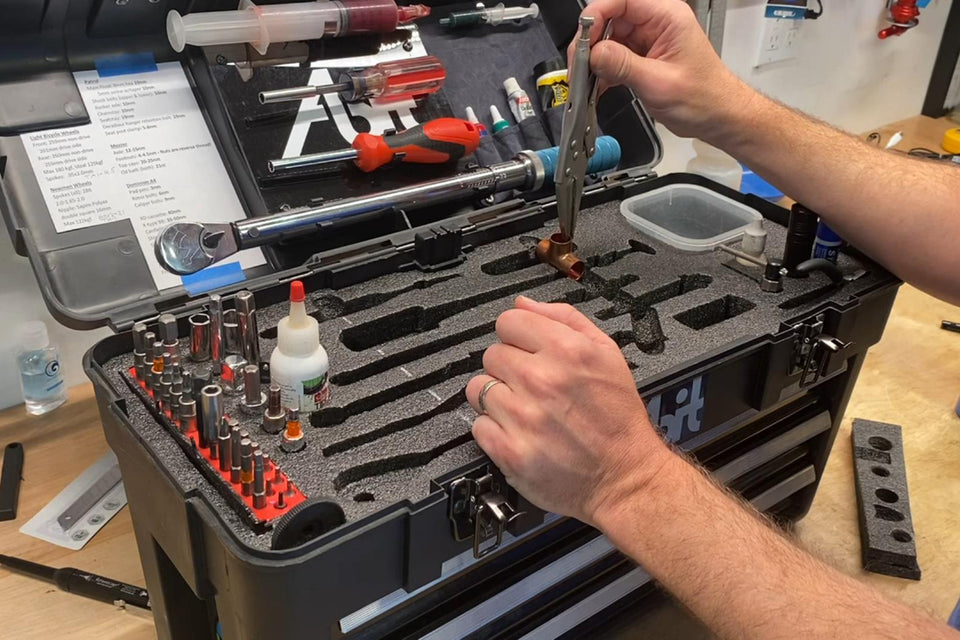 If you're into mountain biking, you're probably into tools, and everyone loves a tidy tool box. I recently went on a mission to build out my biking tool box, which was a fun project that turned out great!
It took way too much time to round up all the pieces to do this, so here's a step by step guide to save you time when sourcing all the pieces and putting it together.
Psst, hey you. Yeah you.  Did you know Abit Gear makes MTB shorts? -- check 'em out -- 
For inspiration and ideas, check out Toolboxwars on Instagram, there's some drool-worthy kits on here from both pro and home mechanics.
What you'll need
FastCap Kaizen foam
Snap-off utility knife and a pack of blades
Thin Kaizen or Exacto knife and a pack of blades
FastCap long nose marker
Torch
Pipe and fittings for heat molding
Copper pipe for cutting circles*
Tool clips*
* Optional stuff depending on your setup
More details, including where to buy all this, below.
My setup will live 90% of the time with it's top open, on top of my rolling cabinet of bike tools and parts. I went for a bit of a vertical layout to pack more of my everyday tools in the deeper top bin.
Kaizen Foam
Kaizen foam by FastCap is the go-to choice for this.  It comes in 20mm, 30mm or 57mm thick. FastCap makes a lot of interesting stuff, and they're local PNW company based in Ferndale, WA.  -- FastCap Kaizen foam on Amazon --
I went with 20mm so that I could get by ordering just one sheet and do two layers for my deeper bin, and one layer for the drawers. I'm glad I went with 20mm! It's way easier to sculpt the shapes with two separate layers.
Most of the time I didn't bother with the scoop it out method, I just cut all the way through, sliced off a bottom piece once the cutout was removed, and placed that piece back in as the base of the cut out shape. Fast and easy.
Knives
Get yourself a standard snap-off utility knife and extra blades for long cuts. The blades will get dull fast, and it's a messy cut as soon as they lose their edge.
You'll also want a thin Kaizen knife or Exacto knife and extra blades for tight corners and small cuts. Did I mention extra blades? FastCap has a better selection and prices than Amazon. -- utility knives and blades from FastCap --
Long Nose Marker
The FastCap long nose marker is expensive at around $8, but totally worth it for tracing shapes. It's easy to wipe away your marks with alcohol for a clean finish. Available in the original 3mm bold tip or thin 1mm tip. I have the 3mm version and love this thing for marking cuts on anything black such as steer tubes or handlebars that need to be cut down. -- FastCap long nose marker on Amazon --
Heat Molding Finger Pulls
Kaizen foam is heat moldable, so pipe and fittings are perfect for forming finger holes. I used a copper 90° elbow and T-fitting, since that's what I had on hand, but anything metal of the right shape will work.
Cutting Circles with Copper Pipe Fittings
A trick for cutting circles and semi-circles for finger holes is to use a sharpened section of copper plumbing pipe. Available at any hardware store, they're easy to sharpen into a cutter. -- copper pipe fittings at Home Depot --
You can file the inside edges of the pipe with a chainsaw file or even cut it down with your Exacto knife, as the soft copper pipe can be shaved down with a steel blade.
Tool Clips
There's a couple ways to go here, and they're all weirdly hard to find, so I did the research for you.
The cheap way to go is using florescent tube holders in T5 (14mm), T8 (17mm) and T10 (27mm) sizes. They're light weight, so don't expect them to hold anything even moderately heavy. -- tube holder combo pack on Amazon --
Ebay seller massiveattack007 has the best selection of plastic coated steel clips, including a great combo pack. They're from the UK, so shipping is expensive, and there's no similar I could find shipping from the US.  -- terry clips on Ebay --
For quality plastic clips Ziamatic is your only option. They're made for fire trucks, so a bit spendy for plastic bits. The only seller I could find with a good selection is McMaster-Carr, and they've also got quality metal clips. McMaster shipping doesn't show up until you've entered your CC and shipping info, and will be about $10, but the fire supply places were even more. I killed a stupid amount of time looking for these. -- tool clips on McMaster --
The Completed Box